....................Here are Withiflor Cockers who have made the grade................

Withiflor Moonlighting
(Sire: Sh Ch Lindridge Venture x Dam: Raysal Savanna of Kendalwood)
1990 Best Puppy in Show - The Cocker Club
on this day, Bella won AOC puppy and AC puppy with (in the region) of 30
puppies in the classes - the norm in those days !
2x CC's - 4 x RCC's
Best in Show at North Of England Cocker - March 1994
Judge - Mrs Phylis Wise


Sh Ch Withiflor Otis Blue JW
(Sire: Alisma Andretty x Dam Withiflor Vienna Blue)
4 x CC's 2 X RCC's
Best in Show The Cocker Club 1999

Withiflor Blue Genius
(Sire: Castanea Sonneteer x Dam: Withiflor Blue Cafe)
RCC - Yorkshire Cocker 2002

Withiflor White Knight JW
Sire: Sh Ch Charbonnel Warlord x Dam: Withiflor White Witch
RCC - Bath Canine Soc 2004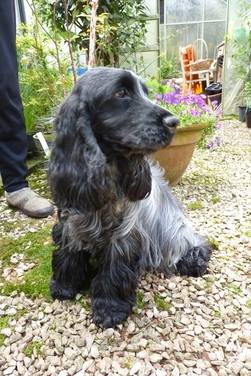 Withiflor Blunique
(Sire: Sh Ch Lindridge Star Quest x Dam: Withiflor About a Blue)
RCC - Gundog Society of Wales 2010

Sh Ch Canigou Storytimne at Withiflor JW
(Sire: Sh Ch Weirdene Winning Sweep x Dam: Canigou Tail me a Story)
16 - CC's : 16 RCC's
including -
BIS The Cocker Club 2011
BCC - Crufts 2012
BCC and BOB - Crufts 2013

Withiflor Northern Light JW
(Sire: Sh Ch Charbonnel Swedish Design x Dam: Withiflor Shining)
2 CC's - 2 RCC's


Sh Ch Withiflor Rollling Stone JW
(Sire: Sh Ch Canigou Rock Star x Dam: ShCh Canigou Storytime at Withiflor JW)

[RBOB Crufts 2015]
6 CC's - 4 RCC's
as at June 2017
Midland Cocker Spaniel Club - 2016
Judge: Mrs Sandy Platt (Charbonnel)
Withiflor Wheels on Fire at Wylyeview - RCC
(litter sister to W. Rolling Stone)
loved, owned and shown by Jo and Steve Kew - well done !


and one better......
Bournemouth Ch Show - 14.08.2017
Judge - Mrs B Muller
Bitch CC - in illustrious company....
her sire - Sh Ch Canigou Rock Star winning Best Veteran
congratulations Jo and Steve......
09.02.2019
Parti-Coloured Cocker Spaniel Club Ch Show
Judge: Mrs Barbara Ward (Wensum)
Withiflor Wheels on Fire at Wylyeview - CC and Reserve Best in Show

East of England Championship Show - 07.07.2018
Judge: Russell Mosedale
Fran's Withiflor Fairy Tale - 1st Sp Yearling B and Reserve Bitch CC
(by Sh Ch Canyonn Classic Illusion ex Sh Ch Canigou Storytime at Withiflor)
Click HERE to return to the top of the page